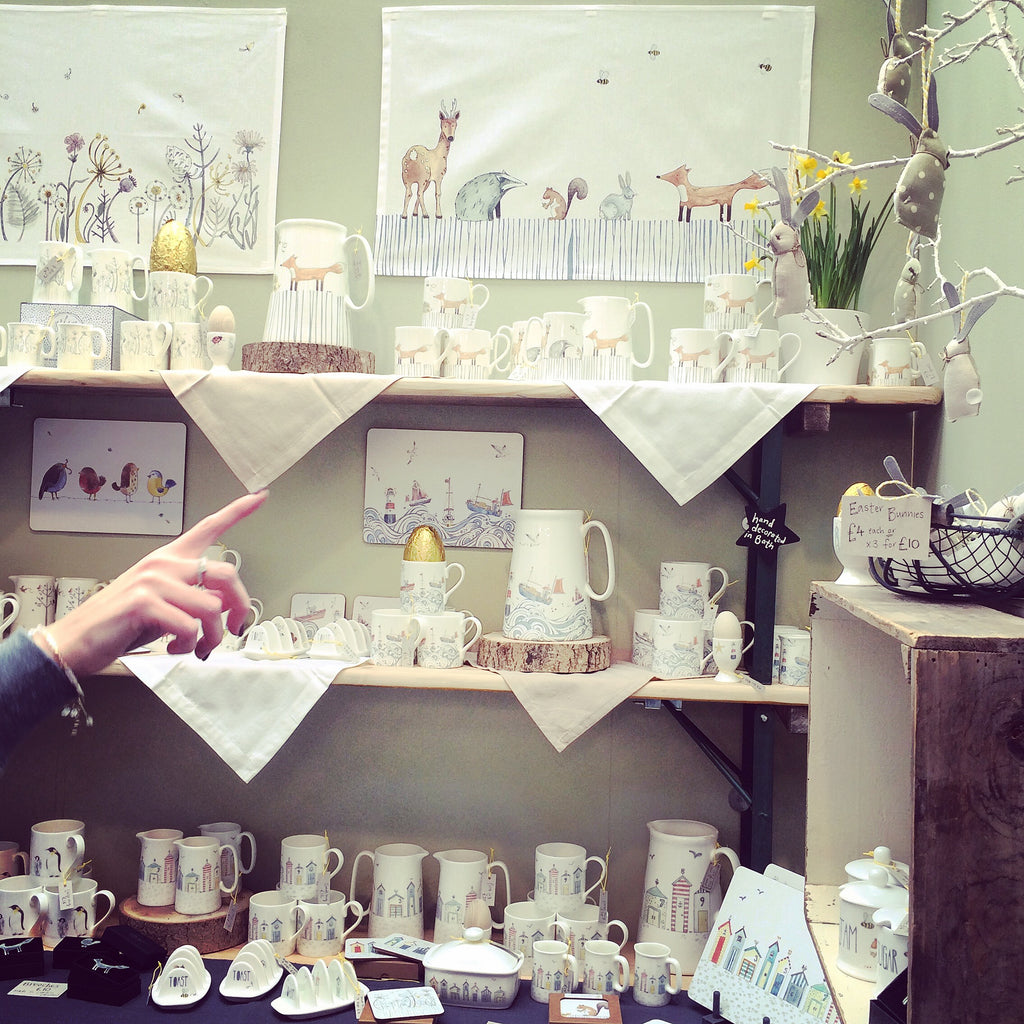 We are mid August already! I cannot believe how fast this month is whizzing by and right now the team are turning their attention to the Autumn shows. We are kicking off with 'The Handmade Fair' a craft and food show that is headed up by the glorious craft ambassador  Kirstie Allsopp. The venue is Hampton Court Palace and there are two lovely tents of craft stalls as well as further tents with smaller craft stands and a separate food tent. This is the first time we have shown at the London event, having had a wonderful time in Alcester at the Spring version. This London show is obviously larger in scale and so we are upping our game (and our vision of our stand) to match it. Competition is always stiff at such high quality shows such as this. With such lovely exhibitiors the visitors are often spoilt for choice and it is difficult to stand out. I have started planning the stand and I have a few tips on how to maximise your space and sales at a show such as this.
A show like this is very different to a market style stall. You do not have to balance everything on tables with no background - you have been given walls... so use them! Paint them if you can (or get the exhibition professionals to do so.) We get ours painted by the pros before we arrive at the show if we can. It gives you the most time possible for display, you are not watching and waiting for paint to dry - literally! In my experience over the last few years we know that visitors like a distinctive background, it helps them remember where you were in such a busy layout where rows of stands look very similar. They will turn to a friend and say "remember the red stand", and you know what, then they do!
My second point about the walls is height. Use the whole wall, you have paid for it after all! We pin textiles up as high as we can (remember to pack that ladder), or have apple crates screwed in to the walls to display china. It does not matter if you physically cannot reach the goods, as long as you have spares stored in secret on your stand to give customers when asked it is a great advert for your goods. It also helps when it is very busy at a show and the only way people can see if they want to battle others to get into your stand is to judge what they can see over everyone's heads.
Think about the height of your product display. You need to consider if you can use props to vary height or use multiples of the products themselves.
Be an obvious rep for your brand. At busy hows it needs to be clear to your customers who they will be approaching to buy from. Try not to shrink too much into the walls of your stand. Wear an obvious badge, a pinny or if there is more than one person to man the stall try and coordinate your outfits.
Make sure you have a clear idea of stand size and measure your furniture before you go. It is often a good idea to plan on paper the furniture you will take and where you think you will put it. Sometimes this changes when you get there, but it needs to be the case you are 100% sure it will all fit before you leave.
Finishing touches are key. If you have a logo get it printed professionally on to a removable decal paper, put business cards in something purpose built or sourced and consider bringing a hand held vacuum. It is incredible how dusty venues get, or how many price label bits and bobs you might have dropped when setting up!
So, if you would like to come to the fair and see our finished stand we will be giving away some pairs of tickets in the next two weeks, check back here or sign up to our newsletter (via our homepage) to enter. In the meantime Folksy have teamed up with The Handmade Fair and myself to run a little giveaway for a collection of In The Woodland products.
To enter just click on this link:
https://www.thehandmadefair.com/hampton-court/visiting/win-with-folksy/
Have a wonderful week whatever you are up to!