Oh I do love to be beside the seaside...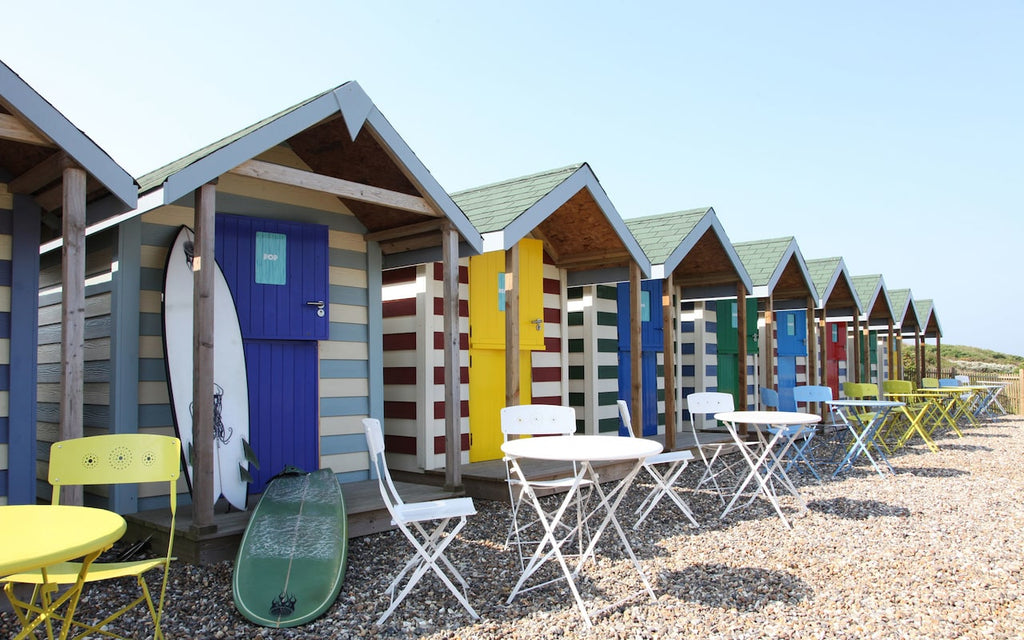 So I am not feeling that we are having a wonderful sunny August, as per usual with the school Summer holidays the good weather appears to have left us late July. Perhaps it will return in September? Either way, like many Brits I have booked a stay-cation this month and as a family break we are heading down to the Dorset coast. The last time I visited the coast there I was inspired by the beach huts that lined the beach and created our range as a result.
I can see the practical appeal of a beach hut - the place to change with modesty intact, a pot of tea on the boil with ease, somewhere to store the windbreak and endless buckets and spades. They really do have a practical use. But I have noticed that there is a breed of larger beach hut that you can spend the night in (something that is prohibited by many rentals around the country.) So I have had a little peruse and would like to bring you my few favourites that I have found, and if anyone would like to book me a break in one I can be free any time, any month!
The National Trust rent out 50 beach huts at Studland in Dorset. The huts are divided into colour-coded zones, giving you the choice of front row seats on the beach or a more secluded spot among the dunes. They are basic, not luxurious, but will store what you need and provide a place away from any wind and rain. Daily rental starts at £17 low season and goes up to £32 in high Summer. You can also hire for a week, the cost is again dependent on the time of year.
Shaldon beach hut in Devon is utterly beautiful, a modern take on the beach hut and is available for up to 4 people to stay in. The facilities are incredible, including a fully equipped kitchen and clever little shower room. I can just imagine a breakfast being pretty darn great with views out from here. Prices are variable but standard rate is £140 per night.
Finally I have saved the best until last. The incredible Cornish St Moritz hotel boasts an array of colourful beach huts. If you book into a King room at the St Moritz hotel you'll be handed keys to your very own beach hut. The huts have incredible views and overlook the Camel estuary over to Steppa Point and the Atlantic whilst cleverly are close to the outdoor pool and the seaside restaurant. Their styling is impeccable with bunting, tables and chairs, plus any added extras you want, such as champagne and birthday cakes brought to your hut. You can't sleep in them, but they are yours to use as you please until the sun goes down. Prices for a king room start at £215.
So finally, as a celebration of the beach hut we are giving you a special offer on our Dorset Beach Hut large mugs as a reader of our blog. Usually priced at £14 each we are offering a big discount this week when you buy two. Until midnight Thursday by using the code BRITISHSUMMER you will get two mugs for £20 - a saving of £8.
Perfect for holiday dreaming...
Now I am off to buy a supply of cagoules and umbrellas, you just never know what late August will bring!