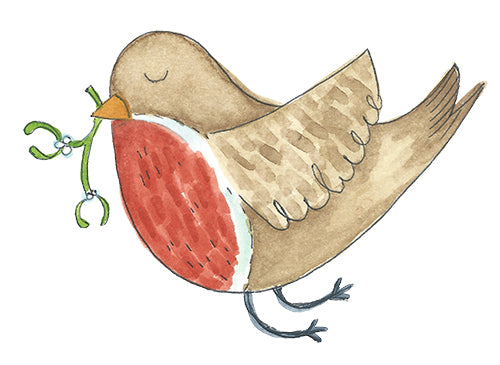 With a certain festive 'c' word around the corner (!) I am sure that for some this is the last thing that you want to think of. The leaves are barely off the trees and yet I have been spending all my spare hours photographing/editing/tweaking/uploading all of our new Christmas collection. But worse than that Christmas for me started in the hottest July we have had on record for decades! It is a lot of work (and money) to get new products out there and the Christmas illustrations I used previously have not been changed for a while, so I decided to go for it this year. New products and new drawings to adorn them.
I set about making a list of Christmas elements, everything from sprouts to polar bears. The next stage is basic sketches. And I mean basic. These sketches are to thrash out possible styles for each drawing and no colour is even considered. 
Next comes a bit of biro. I sketch using a mechanic pencil, this keeps the drawings looking clean and they are easy to correct. Then a little watercolour. This is so much more subtle than just adding layers of colour in any computer programme. Which leads me to the stage where it does finally get involved. This is an example of a drawing once it has simply been scanned into the computer.
Now for cleaning the image up. Sometimes it is a case of tweaking colours but more often than not all I am doing is 'cutting out' the image so that I remove the background and taking away any blemishes or smudges that the paint and pen have left. Once the image is clear of the background it ends up looking crisp and is ready to be formatted for product. This is the reindeer once it has been cleaned up, as you can see I have done very little work on him - just how I like it!
Finally on to the product formatting. Each element is carefully sized and formatted so that it fits the item correctly. This is an example of the bauble and how we have to set the image out ready for the decorators. It is really important to me that I alone format the transfers as the size of image and the order is difficult to communicate to another designer. It also gives me self satisfaction when the samples come back and they are just right in terms of fit and proportion. Here is the finished bauble transfer followed by the image of the finished item.
Well, I hope that that gives you a little insight into the drawing process for us. I have lots of making to do this week in preparation for the Country Living Fair next week and the ladies in Stoke on Trent are hard at work making up some more decorations. If you would like to order any Christmas baubles and plates we promise that they will be with you by the 30th November. Ready to adorn all those beautiful trees out there! We have been overwhelmed by your response to our Christmas collection so far (thus the small wait for your special decorations) and I am so very grateful for all the support you have given us. Thank you.